OEM breakfast rapid egg cooker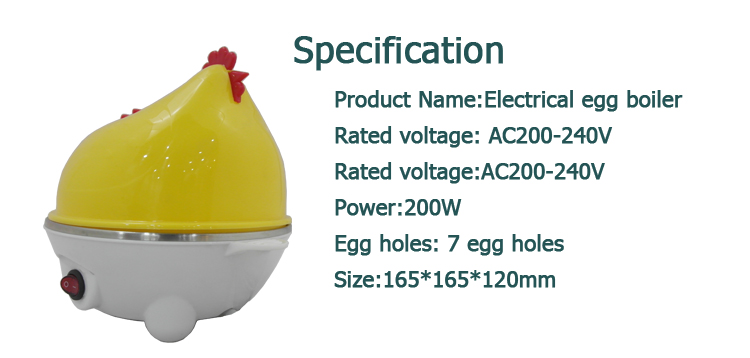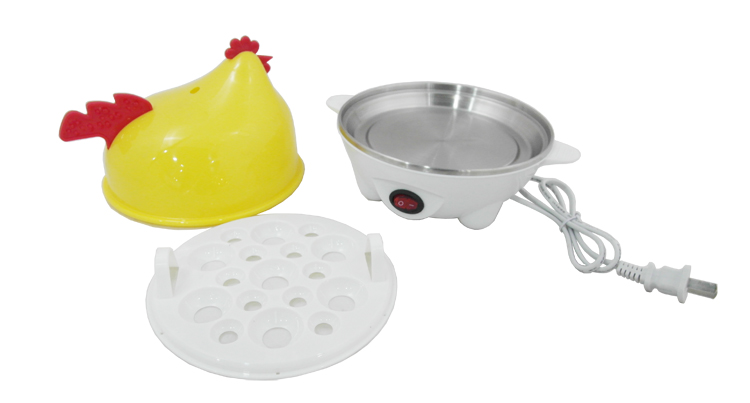 Product name: boiled egg cooker
Material: PP+SS304+ABS
Power: 200W
Capacity: 1.2L
Function: cooker rice, heating food, cooking eggs, ?
Size: 165x165x120mm(6.5*6.5*4.7inch)
Box size: 160x160x168mm(6.3*6.3*6.6inch)
Function:
Cook eggs;
Heating milk;
Heating food,etc
Details:
Operation Steps:
Q&A:
Q: Whether your egg cookers can auto-off?
A:Yes. It can auto-off, and it can anti-burning, save energy and safe
Q: What?s the material of the heating pad?
A:The heating pad is made of stainless steel. The heating is very fast.
Q: What?s the other function of the egg cooker?
A:Steam custard,heating food. Please pick out the egg stand if steam custard.
Product Name: boiled egg cooker
Carton size: 850x330x550mm
QTY:30pcs
G.W/N.W: 24kg/22kg
Our factory was Innitial found in Ningbo, Zhejiang in 2004. The main business is keen on mini rice cooker, egg cooker for gifts market.
In 2010, the business was grwoing up rapidly. Guangdong manufacrure was developped. And we keen on noodle machine, oil press machine, bean sprout machine for home using!
In 2014, to enlarge the business, we develop the oversea business. The product passed CE, Rohs.
We keen on developping creative, special product all the time
Good product, good quality and good service is our main target.
Contact US:
Company: Shanghai K.M. Eelctronic Co., Ltd
Contact person: Susie.chou
Add: Room 802, 15#, Lane 65, Shanhua Road, Minhang Disctrict, Shanghai, China
Central Asia,East Asia,Eastern Europe,Middle East,Western Europe,Oceania,South & Southeast Asia
Size: 165x165x120mm(6.5*6.5*4.7inch) Box size: 160x160x168mm(6.3*6.3*6.6inch) Carton size: 850x330x550mm QTY:30pcs G.W/N.W: 24kg/22kg